Irish-born Edward Alexander Theller (1804-1859) arrived in Montreal in 1826. Though there less than a year, he learned about the deep animosity the French-speaking populace had for the English government—a feeling any Irishman understood. That exposure set the stage for his later actions.
He shifted his abode to Vermont in 1827. He drifted through several states, not staying long, until he settled in Detroit in 1836. There he practiced medicine and ran an apothecary.
Joins Patriot War
Theller, an Irish rebel by inclination, joined the Patriot movement in December 1837 just days after the defeat of rebels near Toronto. With the rank of brigadier-general, he commanded a ship, the
Anne
, during the
first raid by the western Patriots against Upper Canada
. His ship ran aground in a narrow channel in bad weather. Marksmen in the Canadian militia killed or wounded many onboard, including Theller, while others waded out to the ship and captured the survivors.
Weak and wounded, Theller and others survived a rough, five-day winter journey in an open wagon to London, Upper Canada. Ten days later, the same mean conveyance took them to Toronto's jail to await trial.
Charged with treason, Theller faced off against Upper Canada's Chief Justice, John Beverley Robinson in April 1838. The Crown produced several credible witnesses and Theller never denied his involvement. Conducting his own defense, Theller argued that treason could not apply to him because he was no longer a British subject but a naturalized American.
That argument swayed the jury, which returned this qualified verdict: "If the prisoner is a British subject, he is guilty of treason." Citizenship rules were vague in the 19th century, but Theller's 11 years in the United States made him a de facto naturalized citizen by the norms of the time. The verdict amounted to an acquittal, but left the final decision to the court.
Chief Justice Robinson dismissed Theller's defense and sentenced him to death, but later changed his mind and commuted the sentence to life in an Australian penal colony. The British sent Theller to the Citadelle, Quebec City's fort and military prison, where he kept company with many other Patriots, including
Thomas Jefferson Sutherland
.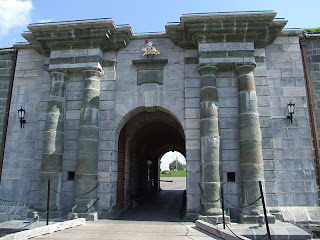 Citadelle gates
Despite well guarded cells, patrols of sentries, and pendulous walls, Theller and four others escaped October 16, 1838—one day before the British planned to ship Theller to England and eventually Australia. In textbook prison-break style, they filed through the bars of a prison window, plied their guard with beer spiked with laudanum until he dozed, and slipped away on a rainy evening.
A short, thickly built man, Theller barely squeezed through the opening. Before going far, he fractured his leg jumping from a wall.
The British soon recaptured three, but Theller and one other, aided by Patriot sympathizers, crossed safely into Vermont in November.
Welcomed and feted as a hero, Theller toured border cities preaching of the righteous Patriot cause. Once back in Detroit, American authorities arrested and charged him with violations of the US neutrality laws, but released him on bail. A jury acquitted him in the summer of 1839. That summer, he began publishing the
Spirit of '76
, a pro-Patriot newspaper.
He moved to Rochester, New York, in 1841. While the Patriot War was over, he remained combative. He plotted with
Benjamin Lett
and others to blow up the Welland Canal. All the evidence points to Theller as being the actual bomber who destroyed one lock and the two schooners moored nearby September 9, 1841.
In 1841 his book
Canada in 1837–38
was published. A readable mixture of historical fact and propaganda, it rekindled hatred of the British along the border at a time when tensions had begun to cool.
Theller remained an idealist for life and a supporter of the underdog. He strongly opposed slavery. He took his medical skills to Panama in 1849 to help victims of yellow fever. While there, he joined a rebellion that aimed to get independence from Columbia. A loser again, he fled to San Francisco in 1853.
In 1856, he began a two-year stint as the superintendant of schools. Two years later, he moved to the gold fields near Hornitos, California, to practice medicine. He died there in 1859.