By the end of 1839, the Hunter and Patriot movements had atrophied into a pathetic club of old men who schemed and dreamed of impossible glories. With Bill Johnston
either in jail or avoiding jail
, one Patriot warrior kept Upper Canada on edge: Benjamin Lett.
Late on April 16, 1840, Lett and accomplices crossed into Upper Canada by boat with barrels of gunpowder. Their target was a stately stone spire at Queenston near Niagara built in 1824 to commemorate Sir Isaac Brock. He died while commanding the force that repelled an American army in the first year of the War of 1812.
Aside
: Somewhat ironically, Patriot army founderWilliam Lyon Mackenzie helped lay the cornerstone of the monument that Lett was about to destroy.
Early on the morning of April 17, the monument splintered from the force of a massive explosion. Though he had no proof, Lieutenant-Governor Sir George Arthur said he had no doubt the perpetrator was Lett, whom he called the "Rob Roy of Upper Canada" after the infamous Scots bandit. Neither Benjamin nor his brother Thomas, who latter chronicled Benjamin's life, ever denied it. The attack fit Lett's politics and modus operandi. (The government rebuilt the monument in the 1850s.)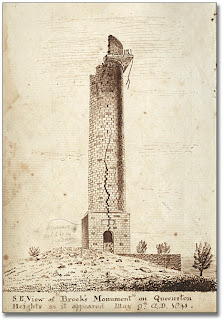 Monument after the explosion
Aside
: Patriot General Donald McLeod became furious on hearing the news of the monument's ruin. As a sergeant, he'd served under Brock at the fateful battle and harbored deep respect for his former commander. He ordered all Patriots and Hunters to cease their freelance raids. If anyone obeyed, Lett surely did not.
Lett Arrested for Steamer Attack
On June 5, 1840, the steamer
Great Britain,
the biggest on Lake Ontario, rested at a dock in Oswego, New York. A Canadian refugee named David Defoe carried a trunk containing explosive materials onto the steamer.
Dafoe was born in Upper Canada about 1802. A resident of Belleville, he fled Upper Canada when the rebellion started and lodged in Watertown, New York. He likely met Lett at a Hunter meeting or through Patriot contacts.
Defoe deposited the trunk near the ladies' cabin, lit a fuse and departed. The trunk's contents—ceramic jugs of flammable liquid—exploded. A fire ensued, but people quickly extinguished the flames.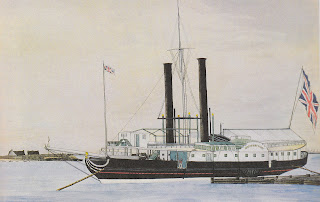 Great Britain, watercolor by Henry Francis Ainslie
Constables arrested Defoe and Lett in Oswego that day. Their trial for arson took place on June 25. Defoe became a witness for the prosecution and blamed the whole plot on Lett. Witnesses testified they saw Lett near the dock before the explosion. Others testified they saw him carrying jugs similar to the fragments found at the scene.
The jury found Lett guilty, and the court sentenced him to seven years in the state prison at Auburn, New York.
While investigators proved Lett's presence near the docks, the only hard evidence of his connection to the arson attempt came from Defoe. Benjamin's brother Thomas later denied that his brother was involved and said Defoe perjured himself. The bomb detonated in daylight in front of witnesses, which did not fit Lett's methodology. Of all the crimes attributed to Benjamin, the attempted destruction of the steamer—the only raid for which he was tried—may have been the one occasion he was innocent.
The train taking Lett to prison slowed going through a cedar swamp. Lett sprang from his seat, rushed through an open door and leapt into the ditch. Though heavily shackled, he disappeared into the forest.
Lett Blamed for Canal Explosion
On September 9, 1841, a gunpowder explosion destroyed a lock on the original Welland Canal in Upper Canada. Though blamed by many historians, Lett was not the bomber. American authorities had arrested him on September 6 boarding a steamer in Buffalo as the ship readied for a westward trip. (Benjamin may have been on his way to join his siblings in Illinois.)
Benjamin's mother and his siblings had left Canada for Texas early in 1838, likely to escape persecution for Benjamin's deeds. In 1839, Lett's siblings (their mother having died) moved to Louisiana, then onto LaSalle County, Illinois, in 1840.
Aside
: Historian Lillian Gates stated that Lett participated in the Welland Canal conspiracy but that
Dr. Edward Alexander Theller
, a brigadier general with the western Patriots, actually blew up the lock.
With his arrest and imprisonment, Lett's personal war ended and with it the Patriot War. While gangs of men, calling themselves Hunters or Patriots, made short raids into Canada, they were bandits, not rebels.
Lett was the last Patriot warrior standing.
Thomas Lett (June 17, 1809-July 8, 1885) worked hard for Benjamin's early release as his brother fell ill in the harsh prison conditions. New York Governor Silas Wright pardoned Lett on March 10th, 1845. Benjamin moved to the family farm and left his terrorist life behind.
Lett's Death a Mystery
Benjamin Lett died December 9, 1858, under mysterious circumstances in Milwaukee. Thomas claimed agents of the Canadian government lured him away and poisoned him with strychnine. Thomas even named the killer—Stewart Wilson. Thomas' claims led to a trial, which acquitted Wilson. Bitter, Thomas claimed the trial was more like revenge than justice.
Benjamin's death did not go unnoticed.
William Lyon Mackenzie
sent a letter of condolence, adding that Benjamin "was warm-hearted and brave as Man can be."
Lett and his brother are buried in a family cemetery in LaSalle County, Illinois.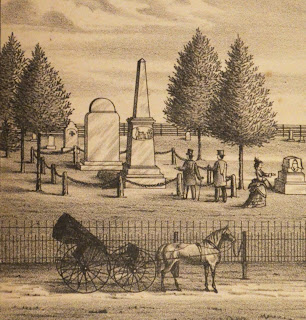 This cropped image from an 1876 LaSalle County atlas (Warner and Beers) shows Lett's stately tombstone.
The long inscription on his tombstone says in part: "The Canadian Patrioit of 1837-38, Benjamin Lett, was pursued by the most powerful political party on earth, which had to stoop to perjury and poison to accomplish his destruction."