The Hunters and Patriots captured at the
Battle of Windsor
faced a trial by court martial in London, Upper Canada, under the same rules and restrictions as their fellow combatants imprisoned in Fort Henry at Kingston. Convictions were almost guaranteed and hanging a likely result.
The judge advocate for the London court martial was Henry Sherwood (1807-1855). Sherwood, 31, was a tightly connected member of the Family Compact, the cabal of elites than ran Upper Canada and provided the catalyst for the rebellion. He was related to the colonial Solicitor General Henry John Boulton and Judge Jonas Jones.
Sherwood was elected to the colonial parliament in 1836. When William Lyon Mackenzie and his ill-prepared band of rebels marched on Toronto in December 1837, Sherwood was in the force that defeated the rebels. (From 1846 to 1850, Sherwood served as the fourth premier of Canada West, the renamed Upper Canada.)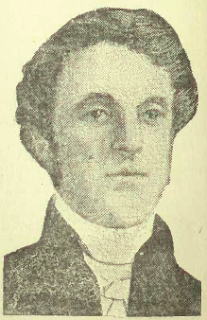 Henry Sherwood
In contrast to the trials at Kingston, where William Draper allowed prisoners to cross-examine prosecution witnesses and address the court directly, Sherwood kept a tighter reign on the London proceedings. He insisted that the prisoners' statements to the court be written in advance and read by him. In a strange twist, Sherwood cross-examined witnesses on behalf of the prisoners; thus being at times the prosecutor and the defense counsel.
Sherwood tried 44 men between December 27, 1838, and January 18, 1839. Sherwood tried the rebel officers singly and others in groups.
As Draper had done in his first trial, that of
Daniel George
, Sherwood's first trial was of a single rebel officer, Hiram Lynn. Sherwood went methodically through the evidence and explained each provision of the
Lawless Aggressions Act
.
That act provided prisoners little room for defense, disallowed court participation by prisoners' lawyers, and allowed evidence that would have been disqualified under similar laws, such as the British
Treason Act
. The latter required two prosecution witnesses for a conviction, respected the defendant's right to legal representation, and permitted defense counsel to have an advanced look at the prosecution's evidence.
Just as some invaders captured at Prescott had done, many London prisoners stated in their defense that they were coerced or misled and had not meant to fight. As at the Kingston trials, that defense was worthless. The men had been caught bearing arms "against the Queen" and that was all that mattered.
In the end, 43 men were convicted and 38 sentenced to death. Only Abraham Tiffany was acquitted. The state produced no evidence against him and Sherwood later wrote the court believed him to be insane.
Five of the London prisoners became witnesses for the prosecution in exchange for a promise of mercy: David McDougall, Daniel Sweetman, George Putnam, Sidney Barber, and William Bartlett. Putnam and McDougall were pardoned. (The exact disposition of the other three is not known but they were not executed or transported.)
As had occurred in Kingston, the executions began before the trials completed.
Further Reading
Biography of Henry Sherwood