After Bill Johnston
escaped custody
late on November 28, 1838, following his acquittal and re-arrest, one man made it his mission to track down the fugitive and apprehend him by whatever means possible. Few men had the skills and daring to find, corner and confront Johnston but this pursuer was Johnston's equal.
As a steamship skipper, Captain William Vaughan knew the Thousand Islands as well as Johnston. As a young naval lieutenant during the War of 1812, Vaughan had been Johnston's ally and friend. Together, they had raided British supply ships. But, when the British
captured Vaughan's son, Hunter,
after the Battle of the Windmill, Vaughan held Johnston at least partly responsible.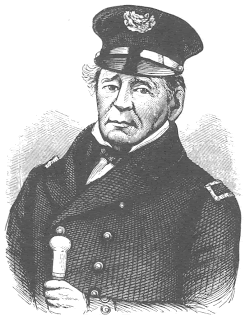 Captain William Vaughan
To find Bill Johnston, Vaughan enlisted the help of Bill's son John. John agreed because he believed his father would be granted bail and get little jail time if convicted. John wanted his father to abandon his life on the lam and come home.
On December 8, an informant told Vaughan that Bill was at Salina (near Syracuse). Vaughan, John and a deputy-marshal set out. During travel conversation, John learned there was no chance his father would be granted bail; so he abandoned the pursuit.
Vaughan arrived in Salina but Johnston was gone. Based on a tip, Vaughan set out alone in a sleigh December 10 for a 46 mile journey through the early winter countryside. His destination was a farm near the small town of Rome, where Vaughan heard Johnston was staying with family. (These may have been relatives of Johnston's wife Ann, several who lived near Rome.)
Vaughan walked unannounced into the farm house at 9 that night and demanded Johnston return to Salina with him. Though armed with pistols and a dirk, Bill gave no resistance. Vaughan and his prisoner arrived at Salina at 6 the next morning, where Vaughan handed Johnston to the deputy-marshal.
From there, the three men journeyed to Syracuse, and Johnston again found himself in the custody of US Marshal Nathaniel Garrow. Two days later, Garrow locked Johnston in an Albany prison cell.
Johnston Sets the Record Straight
On December 14, the Albany
Evening Journal
published a letter supposedly written by Johnston from prison. In it he said he did not help plan the raid on Prescott, as many believed. Further, he stated he tried to dissuade the leaders against the raid because he believed they had insufficient men, ammunition and experienced officers, and would hang if captured. The letter's last paragraph showed his frustration at the state of the Patriot movement and specific but unnamed persons.
"The Patriot cause has suffered and is still suffering more from pretended friends in the States than from its open enemies in Canada. It is from the treachery of a pretended Patriot that your humble servant is within the walls of this prison."
As usual with Bill's published letters, the writing was far above what he could produce himself (as the
one surviving sample
shows) and suggests the hand of a ghost writer or a respectful newspaper editor.
Many in the press vilified Captain Vaughan as a traitor to Bill Johnston. By Vaughan's efforts paid off. In gratitude for the capture of Johnston, the British pardoned Hunter Vaughan and shipped him home that spring.
Why did Johnston surrender to Vaughan without a fight, one might ask? There are many reasons. Bill's war was never with Americans. And despite his pirate reputation, he shied away from murder. In fact, there is no record of him killing anyone outside of the War of 1812. Also, Bill believed he could escape when it suited him.
That cold December, it suited him to stay put. Bill Johnston settled in to spend the winter in prison, but was not alone in his cell for long.