By mid-July 1838, Bill Johnston had separated from most of his followers in an effort to stay hidden. He knew one man or a small group is harder to find than a horde, and easier to feed and supply. While hunting and fishing could sustain a woodsman like Johnston in a pinch, he still needed clothes, provisions, and his wife's home cooking to keep body and soul together. For that he relied on his relatives, especially his daughter Kate, a young woman destined to become almost as legendary as her father.
Throughout summer and into fall, four of Bill's sons—-Jim (29), Napoleon (24), John (22), and Stephen (17, he always used his middle name Decatur)-—plus Catherine (18, always called Kate) and their cousin Ada (37) supplied Bill by canoe or skiff in pairs or alone.
The sons had often joined their father's smuggling excursions and knew how to travel unseen. As early as 16, Kate traveled alone in her canoe spying for Bill. For several years before he joined the Patriot rebellion, Bill Johnston worked as a secret agent for the US Revenue Service. With Kate's help, he informed on Canadian smugglers traveling in US water.
Bill showed no gender discrimination towards Kate. Like her brothers, he taught her to paddle, row, swim, and shoot. Of all Bill's children, Kate most often ran supplies to him in hiding.
Aside
. Many of Bill Johnston's chroniclers state that he spent the summer if 1838 hiding in the cave at Devil's Oven Island. That's complete fiction. Even though the cave in 1838 was larger than at present, no man would last long in its tiny confines. And since the cave entrance was plainly visible from the harbor mouth at Alexandria Bay and well known to locals, it was certain to be regularly searched by the American man hunters.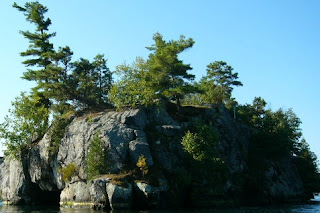 Devil's Oven Island with cave on left.
By day, Kate or Ada watched the river from the attic of the family home in Clayton, NY, peering through two owl's eye windows at the islands. Occasionally, they spotted a signal on Grindstone Island or one of the small nearby islands. After dark, Kate would load her boat with supplies and a rifle and head off to rendezvous with her father. Other times she met him a prearranged locations.
Benson Lossing wrote in chapter 29 of his 1869 book,
Pictorial Field-Book of the War Of 1812
: "Johnston was…hiding among the Thousand Islands, and receiving food at night from his daughter, a beautiful girl eighteen years of age, small in stature and delicate in appearance, who handled oars with skill, and who, in a light boat, sought his hiding-places under cover of darkness. She was often watched and followed by persons in the interest of the United States government, but her thorough knowledge of the islands and skill in rowing allowed her to elude them."
British and American agents watched the Johnston clan, always hoping their supply trips would lead them to their pirate father. But Johnston's children were canny (often several siblings would act as decoys to lead spies astray) and they knew the river and its mysteries as well as Bill.
According to local legend, two British officers in a gig confronted Kate in Canadian waters that summer as she returned from a visit with her father. They pressed her to reveal his location. In response, she leveled her rifle at them and demanded their surrender. She then ordered them to tie her boat to theirs and row her back to American waters, which they did.
For her exploits that summer and the following winter, people dubbed Kate "Heroine of the Thousand Islands" or "Queen of the Thousand Islands." Her adventures later became the inspiration for a play and at least one novel (
Empress of the Isles or the Lake Bravo
, by Charley Clewline, 1853).
Further Reading
Kate Johnston plays a significant role in
my novel
as the protagonist's love interest. She appears in the sample first chapter and the published segment about
Bill Johnston's Fourth of July party
.