John Montgomery (February 29, 1788-October 31, 1879) was the son of refugees who came to Canada after the US Revolutionary War. He fought for Britain during the War of 1812. Despite having a loyalist pedigree, he was tried as a traitor and sentenced to hang in the early months of the Patriot War.
In 1837, Montgomery operated a tavern on Toronto's main route, Yonge Street, just north of the town's border in those days. He served as county commissioner for roads and as a director of a mutual insurance company. He was a solid citizen but he sympathized with the political reform movement in colonial Upper Canada, and that was his downfall.
When William Lyon Mackenzie's rebel army assembled north of Toronto in early December 1837, Mackenzie chose Montgomery's Tavern as his headquarters. Montgomery took no active role in the rebellion and disavowed armed conflict as a means to bring about reform.
The government force that routed Mackenzie's rebels on December 7, arrested Montgomery and burned his tavern. Charged with high treason, the judge pronounced him guilty on flimsy evidence and sentenced him to death, later commuted to transportation for life. In May, the British shipped Montgomery and fellow prisoners to Fort Henry in Kingston on board the
Sir Robert Peel
(the same
ship destroyed by Bill Johnston
) to wait for an ocean sailing ship to take them to Tasmania.
Prisoners Tunnel to Freedom
While incarcerated in the impregnable fort, Montgomery participated in a great escape worthy of a movie.
The British kept Montgomery and fellow prisoners in a ground-level casement that normally served as troop barracks. While fellow prisoners exercised in the fort's parade ground, they noticed a trap door in the next casement, which they correctly assumed led to special gun room where the artillery could fire cannon into the dry ditch in the case of attack. In their prison casement, they discovered a recently bricked-in opening that once joined the neighboring casement.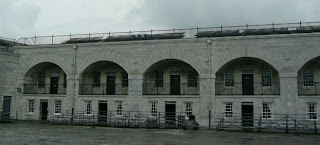 Fort Henry has 34 barrack casements on two levels. The second from the left on the bottom was Montgomery and friends' cell.
Using an old nail and piece of iron they found, they began chipping away at the new masonry. They hid the dig behind a pile of firewood and stored the loose mortar in the wood stove. After six days, the hole was large enough to squeeze through.
At night on August 4, 1838, during a raging thunderstorm, Montgomery and 14 others slipped into the hidden gun room, climbed through the gun ports and dropped into the dry ditch. (Montgomery broke his leg.) Using a ladder made of boards, they scaled the walls of the dry ditch and scurried away from the fort. They divided into two groups, found boats and rowed to the US. The British recaptured two men.
Montgomery's Later Years
Montgomery settled in Rochester, NY, where he kept a grocery store and a boarding-house that became a meeting place for Canadian Patriots. In 1839, he and Mackenzie started the Canadian Association, a new organization for Canadian refugees with Montgomery as president.
Along with many Patriot exiles, Montgomery received a pardon 1843. He returned to Toronto and built a new tavern on the site of the old one, and submitted a petition for compensation for the loss of his previous tavern. The colonial government eventually granted him $3,000.
He moved to Markham Township, northeast of Toronto, in 1871 and became the local postmaster. Over his life, he married three times and sired at least six children.
When asked at his 1838 trial if he had anything to say, Montgomery accused witnesses of perjury. He cursed the judge, jury and prosecutors vowing that, when they had "perished in hell's flames, John Montgomery will yet be living on Yonge Street." When Montgomery died in 1879, he had outlived the judge, prosecutors, and most jurors and witnesses.
Further Reading
You can read Montgomery's own account of the escape in "The Life and Times of William Lyon Mackenzie," by Charles Lindsay, 1863. See page 369, Appendix H of Volume II (page 800 of the combined Google Books PDF).