Linus Wilson Miller (December 28, 1817-April 11, 1880) was a wildly idealistic American drawn into the campaign to "liberate" Canada. He grew up on a farm near Stockton, NY, but left the agrarian world to study law. But at just 20, the Patriot War diverted his career—for eight years.
Rants by William Lyon Mackenzie and his supporters about the depredations of the Family Compact in Upper Canada struck a nerve in Miller. In the spring of 1838, he toured the Niagara region to see first hand the suffering of Canadians. During his visit, just weeks after the
Pelee Island raid
, he found "a large majority of the most respectable Canadians" willing to describe the "blight and mildew of misrule" that changed loyal subjects into enemies of the Crown. He was hooked.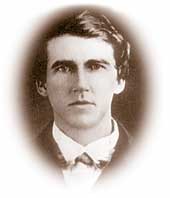 Linus Miller
Miller later wrote about his experiences in the Patriot War. His book is crammed with the idealism and jingoism common to many 19th-century American freedom fighters. For example, he said Canadians "turned their eyes to the United States, studied our glorious and peaceful institutions, until they imbibed the spirit of the heroes of the American Revolution, and felt the God-like divinity of liberty stirring within their souls." Whew!
Miller Plans Patriot Jail Break
Two days after the
British hanged Samuel Lount and Peter Matthews
, Miller joined leaders of the Canadian Refugee Relief Association (CRRA), including
General Donald McLeod
, in Lockport, NY, April 14, 1838.
Six Patriot prisoners, captured after the aborted
uprising led by Dr. Charles Duncombe
the previous December, were condemned to die in Hamilton on April 20. The CRRA decided to bust them out of jail and McLeod sent Miller to do the job.
According to his memoirs, Miller crossed into Canada and raised 200 men from within the local populace. He sent one small group to attack Hamilton's Dundern Castle as a diversion, another group to capture a steamer in Hamilton's port, and another to attack the jail and hustle the Patriot prisoners to the steamer and on to America.
After making his way to Hamilton in wintry weather, he found that his plans preceded him. British militia guarded the castle, the port, and the jail. Miller blamed the treachery on Jacob Beemer, 24, one of Dr. Duncombe's rebels, though Miller had scant evidence.
Miller discovered the British had reprieved the prisoners. He canceled the jail break, dispersed the 200 volunteers, and hurried home. He narrowly avoided capture from Colonel Allan Napier MacNab when MacNab and several officers entered a store where Miller was buying supplies.
Miller Sent to Stop Patriot Attacks
In June, the CRRA and General McLeod picked Miller for another assignment.
On June 11, a band of 26 raiders acting without orders or guidance from the Patriot command crossed into the Niagara region from New York to strike a blow for the Patriot cause. When in position near St. Catharines at a place called Short Hills, they sent world to General McLeod that they awaited his orders.
The last thing McLeod wanted was a freelance invasion. The CRRA had plans for a major offensive on July 4 and he didn't want anyone prematurely arosing the British. The general's orders to the rebel band were to cease hostilities and return immediately. He called on Miller—now McLeod's aide-de-camp with the rank of colonel—to relay that command.
A few days later, Miller crossed into Canada. With him was a well armed 18-year-old saddle maker from Pennsylvania calling himself David Deal, a young man with a secret.
The rebels, by then over 40 in number under command of James Morreau, refused to obey the order. On June 20, Morreau's rebels
attacked and captured a band of soldiers
(British Lancers) but soon let them go at Miller's insistence. The rebels dispersed and ran for the border. The British captured 39 rebels including Morreau, Deal, Beemer, and Miller.
Miller Captured
Once captured, Deal told Miller his real name, William Reynolds, and confused he helped Bill Johnston
destroy the Sir Robert Peel
. Deal was terrified the British would learn his secret and hang him for it.
During his trial in July, Miller's brother testified that Linus had been acting strangely for months, making up stories and running up debts. The odd insanity defense proved worthless. Judge Jonas Jones condemned Miller to death by hanging—the sentence to be carried out August 25.
Sent to Tasmania
On the 22nd, the government commuted his death sentence to life in the Van Diemen's Land (Tasmania) penal colony. The British shipped him and 14 others to Fort Henry in Kingston the next day. Three months later, Miller and other prisoners were taken downriver to Quebec and put on a ship for England.
Miller and most of his Short Hills companions spent six months in London's infamous Newgate prison before being placed on a crowded prisoner ship, the
Canton
, with 230 common criminals. It departed September 22, 1839 and arrived in Tasmania, January 12, 1840. Thus began two years of slave labor in terrible conditions followed by years of low-paid labor.
Aside
: Miraculously, William Reynolds (a.k.a. David Deal), one of Bill Johnston's raiders, missed the voyage to the antipodal regions. The British released him at the request of the American ambassador and he went home.
Pardoned and Returns Home
Queen Victoria pardoned Miller and other Patriot prisoners between 1844 and 1850. Abandoned by the US government, each man had to find his own way home. Many took jobs on ships to earn their passage. Miller left Tasmania in September 1845 and landed in Delaware, USA, on January 25, 1846. He arrived in Stockton, NY, a few days later to find his parents and siblings alive and well.
Miller, still a young man, picked up the threads of his life. He wrote his memoirs and went back to farming. In January 1850, he married Anne Jeanette Curtis. They had two sons and three daughters.
Further Reading
Miller's book,
Notes of an exile to Van Dieman's Land
, 1846, is available through Google Books.