On December 13, less than a week after William Lyon Mackenzie fled his bungled 1837 rebellion to the US, he took control of Navy Island in the Canadian half of the Niagara River, upstream from the falls. Backed by hundreds of armed followers, he declared himself the head of a provisional government, the Republic of Canada. They built fortifications and began a cannon bombardment of the Canadian shore.
Mackenzie Appoints Drunkard as Top General
Americans flocked to Mackenzie's cause. They included a brandy-loving adventurer and scion of a great New York State family, Rensselaer Van Rensselaer, 35, grand-nephew of General Stephen Van Rensselaer and son of Colonel Solomon Van Rensselaer. (Uncle Stephen saw his army clobbered by a smaller British force at Queenston Heights in the War of 1812, a battle in which papa Solomon received multiple wounds.) Based on his family's losing military history, Mackenzie appointed the younger Van Rensselaer as his chief general.
The man defending Canada, Colonel Allan Napier MacNab (one of the British commanders who defeated Mackenzie's rebels in Toronto), took a personal dislike to Mackenzie's cannon barrage. Even though his orders were to just contain Mackenzie, he decided to strike.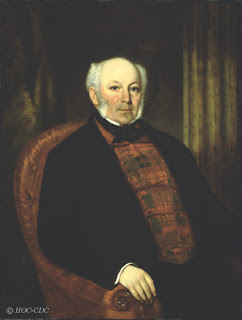 Portrait of Sir Allan MacNab
On December 29, Captain Andrew Drew of the Royal Navy, acting under MacNab's orders, rowed across the icy river in darkness with 60 militia and attacked the Patriot's supply ship, the steamship
Caroline
, at Schlosser, NY. Drew's men towed the ship into the current and set her afire. The blazing ship grounded on rocks and broke apart, her pieces plummeting over the falls.
Drew's raiders killed a black American sailor named Amos Durfee. He appears to be the first American casualty of the spreading border war—but not the last.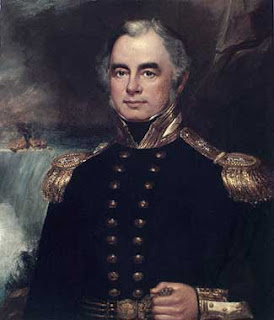 Aside
. The attack on the
Caroline
stands as one of the earliest cases of a preemptive strike by one peaceful nation on another.
Caroline's Burning Rekindles Ebbing Conflict
Americans saw the British attack on an American ship in a US port as an assault on their sovereignty. It did more to boost Mackenzie's support than any of his fiery speeches. While President Martin Van Buren shrugged off the incursion, US citizens sent money and ammunition to Mackenzie. American volunteers soon outnumbered Canadians in the new Patriot army.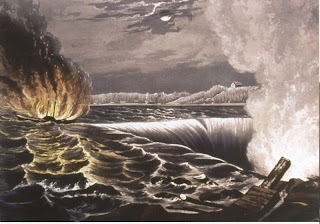 Fanciful Painting of the Burning Steamer Caroline
Burning the
Caroline
was a rash military act. It turned a bungled revolt near Toronto into an undeclared border war.
Bill Johnston Leaves Retirement
Seeing a chance to continue his war against Britain, Bill Johnston arrived on Navy Island in early January, bringing with him a nine-pound field cannon, likely liberated from the state arsenal. It was Johnston's first meeting with Mackenzie (who he admired) and Van Rensselaer (who he quickly distrusted). Johnston remained for three days and returned home—briefly.
Aside
: While on Navy Island, Bill Johnston likely met Canadian refugee
Benjamin Lett
. Whereas Johnston and his peers largely behaved as principled freedom fighters throughout 1838, Lett developed a reputation as the only true terrorist in the Patriot movement.
Due to cold, a sustained British cannon bombardment, and Van Rensselaer's dithering, Patriot fighters slowly deserted Navy Island. On January 13, 1838, Van Rensselaer and his remaining volunteers withdrew from the island.
For awhile in early 1838, the British in the Canadian colonies thought Van Rensselaer's retreat meant an end to trouble. Such optimism!
Aside
: An American jury indicted Captain Drew for murder. He left Canada in 1842, fearing he'd be murdered for the
Caroline
affair if he stayed. In contrast, MacNab was knighted in 1838 for his defense of Canada.
Further Reading