On a frigid December night in 1812, an American civilian trapped in Kingston by the British-American war tried to walk home. Seba Murphy, 25, set out across the windblown ice for Cape Vincent, New York, 10 miles (16 kms) away. He lost his way in the blinding snow and fell part way through a hole in the ice. His feet frozen, was "saved" by a British patrol. He asked for medical help, but received none. His frozen feet became gangrenous.
Bill Johnston Befriends Seba
Born July 25, 1787 in Scituate, Rhode Island, Seba worked as the Kingston, Upper Canada, branch manager for DeGraff, Walton & Company, an American shipping firm. In 1811, he married Margaret Davy, 18. As a local girl and child of Loyalist parents, she and Seba likely knew Bill Johnston before the war.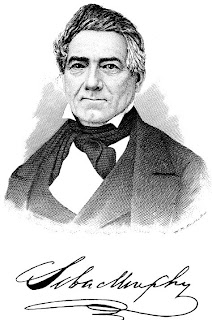 Image of Seba Murphy from History of Monroe County Michigan, 1890
Johnston heard of Seba's condition. He paid his $800 bail, moved him to a safe house, and found medical help. A doctor amputated Seba's feet just above the ankles. Johnston took Seba to Prescott in a sleigh hidden under bags of oats. Seba's friends smuggled him to the US at Ogdensburg. A few years after the war, Seba visited Bill Johnston at his home in Watertown, New York, to thank him.
Despite his infirmity, Seba led a full life. He opened a general store at Ovid, New York, and fathered five children. He held the position of county clerk for two terms. He moved to Monroe Michigan in 1835, where he served as county treasurer, on the Board of Regents of the University of Michigan and as state senator. He died November 16, 1854 at 67. Margaret lived until January 9, 1860.
Seba Never Forgot Johnston
As the years passed, Seba never forgot nor denied Johnston, even when his old benefactor was a pirate pursued by two nations. In a letter to a friend 25 years after his night on the ice, he wrote, "Forget William Johnston? And shall I forget thee? When I do, may my right hand lose its cunning; may the hand that is driving this pen be withered."
Note
: The Smithsonian American Art Museum's online catalog states that separate portraits of Seba and his wife Margaret exist in private collections.