The forces that shaped the Upper Canada rebellion in the Western District often affected whole families. The best example is the Malcolm clan, which spawned 13 rebels spread across two generations. Despite two being sentenced for treason and two having rewards on their heads, all survived with great stories to tell.
Finlay Malcolm I (1750-1829), hailed from Aberdeenshire, Scotland. Later as a sea captain and ship owner, he carried cargo between Scotland and America. He settled in Maine, but moved to New Brunswick after the American Revolution. He arrived in Upper Canada in 1802. He had nine sons: Finlay II, Eliakim, John, James, Daniel, Peter, Duncan, George and Hugh. The family cleared farms and built mills near the towns of Oakland and Scotland (southwest of present-day Brantford, Ontario).
(There were three men in three successive generations with the given name Finlay involved in the uprising. I assigned Roman numerals to reduce confusion.)
As loyal British subjects, Finlay I and two sons, Finlay II and John, served in the militia during the War of 1812. An American force attacked their area in 1814, defeated the local militia and burned John's mill. (The event is known as the Battle of Malcolm's Mill.)
The Malcolm clan prospered and multiplied. You could not travel the area without passing a farm, gristmill, or tavern owned by one of the family. The men became leading citizens. Residents elected Finlay II to a term in the Legislative Assembly. Eliakim became a deputy surveyor in July 1821 and surveyed the village of Scotland.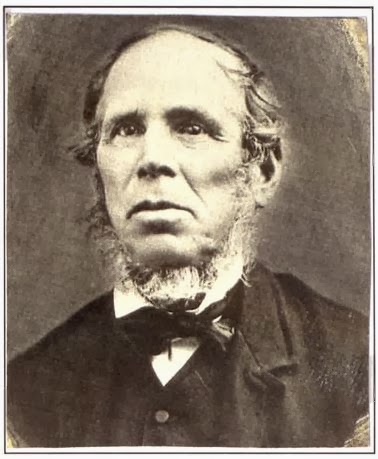 Eliakim Malcolm about 1853
The Western Rebellion Begins
As political tensions increased in 1837, the family tended towards political reform and became followers of
Dr. Charles Duncombe
. John, Eliakim, Finlay II, his son Isaac, and Finlay III (son of Daniel) spoke at protest meetings in local townships in 1837. James and Peter recruited men into the rebel force. When the call to arms came in December 1837, the Malcolms gathered an estimated 200 volunteers to support Dr. Duncombe.
On December 7, the same day
William Lyon Mackenzie attacked Toronto
, Eliakim held a recruiting meeting in a tavern in the village of Scotland.
A week later, the western rebellion ended without a shot fired. Between December 23, 1837, and January 3, 1838, soldiers arrested three of Eliakim's brothers—Finlay II, 58, Peter, 41, John, 61—and four nephews—Isaac,25, Shubael, 23, Finlay III, 38, and Norman, 17 (locked up for protesting his father John's arrest)—and incarcerated them in the Hamilton jail.
With a ₤250 reward for his capture, Eliakim, 36, managed to escape to Michigan. James, 37, also fled to America.
James' son, James Jr., 16, was detained for questioning in December 1837 and released. Another Malcolm minor, Peter's son Augustus, 17, also briefly saw the inside of the jail. Eddy, 20, son of Hugh, was arrested and released in December 1837 for a possible role in the Duncombe uprising, and was again arrested and released in July 1838 over suspicions he joined another rebel incursion at Short Hills.
Of all the living sons of Findlay Malcolm I, only Duncan, 39 and George, 31, stayed out of the rebellion. (Hugh died in a barn-raising accident in 1828.) Daniel, 60, avoided arrest, though evidence showed he urged men to take up arms.
Finlay II, John, Isaac, Shubael, and Norman were among men released without trial in Hamilton in March 1838.
Peter, 41, was indicted as a rebel leader, convicted of treason, and sentence to hang on April 20 with five other rebels. Lieutenant Governor George Arthur canceled those executions. He'd
executed two
of Mackenzie's officers on April 13, and he believed the necessary examples had been made. The court then commuted Peter's sentence to 14 years in a penal colony; but in November 1838, the court released him on ₤500 bail and he went free.
Finlay III was tried for being a rebel organizer, sentenced to 14 years in the Van Diemen's Land penal colony (renamed Tasmania January 1, 1856), and sent to England to await a southbound ship. While incarcerated in Liverpool, he and other convicted Patriots peppered English officials, jurists and newspapers with a fierce letter-writing campaign in the early months of 1839. They argued strenuously that their imprisonment was unconstitutional. Finlay and eight others succeeded in getting acquittals and came home.
Drawing in 1839 issue of the London Sun. Finlay Malcom is fourth from the left.
James returned under a pardon in 1841. The following year, Eliakim received his pardon and came home. Considering the family's deep involvement in the uprising, everyone survived unscathed.
Upon his return to Upper Canada, Eliakim (March 18, 1801-September 26, 1874) continued in business as a farmer and miller. Drawn to local politics, he became the first reeve of Oakland Township in 1850 after its formation and first warden of Brant County in 1853 when it separated from a larger county.
Eliakim and many other rebellious Malcolms are buried in the cemetery in Scotland, Ontario, and the lettering on their markers is still legible. Finlay I and his son John are in the pioneer cemetery in nearby Oakland, though time has erased their names on the old headstones.